Currently I am working at Central Research Laboratory of one of the premier group of industries in Japan
JETRO Intern - Polymer Chemistry Division [July2000 - Dec 2000]
Kawamura Institute of Chemical Research,
Dai Nippon Ink and Chemicals, Inc., Sakura, Chiba ken,
265-0078,Japan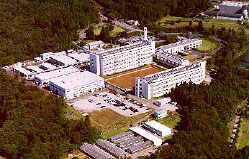 About my work:
*Study of polymerization induced phase separation and polymer confirmations and structures in the blends of photopolymers and various thermoplastic polymers (thin films, in solvents.) ( Amorphous and semi-crystalline), LCPs.

*In-site formed morphology in photocurable polymers and its control.

*Characterization of blends using SEM, TEM, optical microscope, light scattering techniques, DSC, TGA, to study the effect of time, temperature, annealing and intensity of UV radiations on morphology and thereof final properties

*Mechanical and optical properties measurement on IPNs, semi-IPNs and nano-scale phase separated systems.

*Viscoelastic phase separation in polymer blends.

*Study of ternary blend of UV curable resins, semi-crystalline and amorphous thermoplastics to get transparent yet crystalline films and coatings.

Patents And Publications
*"Methods of producing Polymer composites" Jain S., Murata K., Anazawa T.(Togan Hei 2000, 326845, 26th October 2000)
*Working on the patent filed on morphology gradient in polymer blends with Dr.K. Murata